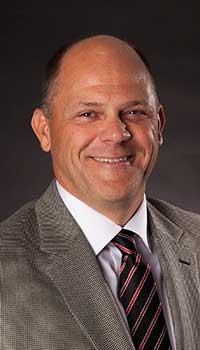 In just four seasons, Mark Redburn has transformed the Southeast Missouri softball program. Redburn sets to coach the 43rd team in Southeast softball history in 2019.
The 2018 season produced the program's most wins in a season in 20 years (33-20 overall record), the best Ohio Valley Conference finish since 2009 (4th place, 15-7 record) and an RPI ranking of 74 among the nation's 296 NCAA Division I teams.
Prior to Redburn's first season in 2015, the Redhawks finished with only eight Division I wins, a last place conference finish with three wins and an RPI of 265.
SEMO heated up to win 11 of its final 14 regular-season games in 2018 and advanced to the eight-team OVC Tournament with its highest seed (#4) in nine years. The Redhawks made their 17th all-time trip to the league's postseason tournament and second with Redburn at the helm.

The Redhawks broke four of the school's single-season records and collected eight doubleheader sweeps. SEMO established new single-season records in walks (166), stolen bases (70), saves (7) and strikeouts looking (85). The Redhawks were also either second or third among the program's top teams in stolen base attempts (2nd, 87), batters struck out (t2nd, 260), fielding percentage (2nd, .970), fewest errors (2nd, 43) and on-base percentage (3rd, .359).
Defensively, SEMO improved tremendously. After ranking eighth in the OVC in fielding percentage the year before, the Redhawks were the league's second-best fielding team in 2018. SEMO had 43 errors and committed 16 less than it did in 2017. The Redhawks went error free in 25 games equating to 47 percent of their entire season.
Nationally, SEMO rated among the top 60 teams in triples per game (6th), fielding percentage (40th) and stolen bases per game (57th, 1.32). Individually, Rachel Anderson was ninth in the nation in triples (6) and Abby Tillotson was 41st in sacrifice flies (4).
Anderson (CF), Sarah Messex (SS) and Abby Tillotson (C) earned All-OVC honors. Anderson picked up first-team accolades for the second-straight year, while Messex and Tillotson were second-team selections. Anderson also secured Second-Team NFCA All-Mideast Region laurels.
Academically, the Redhawks were again impressive with six players achieving a 4.0 grade point average during the 2018 spring semester. As a team, SEMO posted a 3.55 GPA. 
Redburn coached his first OVC Freshman of the Year and third First-Team All-OVC selection in Anderson. Anderson, also a NFCA Second-Team All-Region pick, led the team in batting average (.412), at-bats (153), hits, doubles (10), triples (8), home runs (7), RBIs (33), total bases (110), slugging percentage (.719), on-base percentage (.483), multi hit games (21), multi-RBI performances (10) and games started (50) as a freshman in 2017.
The 2017 Redhawks placed among the school's top single-season teams in slugging percentage (6th, .427), on-base percentage (5th, .356), triples (t4th, 21), home runs (9th, 31), total bases (9th, 567), stolen bases (2nd, 65), stolen base attempts (1st, 88), opponent batting average (7th, .282), strikeouts/7 innings (7th, 4.17), strikeouts (10th, 194), strikeouts looking (3rd, 61) fewest doubles allowed (8th, 49), fielding percentage (8th, .960), fewest errors (t7th, 59) and fewest stolen bases against (3rd, 38).

Redburn picked up his 200th career victory when Southeast beat Austin Peay, 7-4, on Apr. 30, 2016. His 2016 club ranked among the school's top-10 teams in doubles (6th, 69), stolen bases (3rd, 58), walks (8th, 138), home runs (6th, 35) and slugging percentage (6th, .412). Additionally, Redburn coached one All-OVC pick (Savannah Carpenter) that year.

In his first season, Redburn led the Redhawks to an overall record of 19-27 and 12-12 in OVC play during the 2015 campaign. His 19 victories came after Southeast won no more than 15 games in each of the previous two seasons. Redburn's first club at Southeast also had 12 OVC wins, a +9 increase from the 2014 campaign. In addition, the Redhawks made the OVC Tournament, snapping a streak of three years where they missed the event. 

Not only did Redburn earn his 100th career NCAA Division I win in his inaugural season with the Redhawks, but he coached three All-OVC selections and one NFCA All-Region honoree.

Statistically, Southeast finished among the top-five OVC teams in batting average (3rd), slugging percentage (5th), on-base percentage (5th) and hits (5th). The 2015 Redhawks also broke two single-season records with Kayla Fortner establishing new marks in home runs and walks. Southeast tied the OVC single-game mark and set a single-game school record with six home runs, as well. 

Academically, the Redhawks accumulated a 3.35 grade point average during the 2014-15 academic year as a total of nine players earned NFCA All-America Scholar-Athlete status for achieving a 3.5 or higher GPA.
The fourth head coach in Redhawk softball history, Redburn won 90 games in five years as head coach at the University of \ Evansville before accepting the job at Southeast on June 26, 2014.

In 2014, Redburn coached a UE team with five starters that were underclassmen, including four freshmen and one sophomore. The Purple Aces achieved their highest batting average since 2007. Additionally, UE had a freshman lead the team in stolen bases and home runs.

Despite a season that allowed 53 games, the 2013 team had its best season in Redburn's five years at UE. Entering the Missouri Valley Conference Tournament as the No. 7 seed, the Purple Aces beat the No. 6, No. 3 and No. 2 seeds to make their first MVC Championship appearance since 2003. UE finished second with three players garnering All-Tournament team honors.

The 2013 campaign resulted in the most overall wins in a season since 2008 and the best regular-season and conference tournament finish since Redburn's arrival. UE continued its aggressive baserunning with 89 stolen bases, ranking second in the MVC. The pitching staff also rated fourth in the conference.

Redburn's 2012 club saw improvement as well, winning more games than it had the previous season. The Purple Aces stole 79 bases and had two all-conference and one National Fastpitch Coaches Association All-Region selection that year.
In 2011, Redburn exposed a young and inexperienced team to some of the top programs in the nation as UE played one of its most difficult schedules. Tennessee, Georgia Tech, Missouri, Ohio State, Texas Tech, South Alabama and Chattanooga were among the stiff competition.

Redburn quickly started to transform the UE program during his first year in 2010. The Purple Aces secured a berth in the MVC Tournament after winning 10 conference games. UE led the MVC with 31 doubles and hit 36 home runs, while producing two all-conference picks.

Academically, Redburn's teams consistently enjoyed success. In fact, each of his last four UE teams accumulated a 3.1 or higher grade point average. He had several student-athletes obtain over a 3.5 GPA and earn academic recognition along the way.

Prior to UE, Redburn spent three years as an assistant coach at the University of Missouri working primarily with the pitchers and catchers, and serving as recruiting coordinator.

He was part of a coaching staff that compiled an overall record of 137-53. The Tigers registered a school record for victories (50), won the Big 12 Conference Tournament, won their Regional and defeated host UCLA in the Super Regional to advance to the College World Series in 2009. Overall, Redburn coached four all-conference pitchers, including USA National Team Pitcher Chelsea Thomas at Missouri.

Redburn began his collegiate coaching career as head coach at St. Charles (Mo.) Community College from 2001-04. He led the 2003 team to its first Region 16 championship and a seventh-place finish at the National Junior College Athletic Association Division I National Tournament. His 2004 squad set a school record with 33 victories.

Following his stay at St. Charles CC, Redburn spent two seasons as head coach of the new softball program at Jefferson College. In the program's first year of competition, 2006, he led Jefferson to a 49-16 record, Region 16 championship and ninth-place finish at the NJCAA Division I National Tournament. Redburn was honored as the Midwest Community College Athletic Conference Coach of the Year following that season.

A native of St. Charles, Missouri, Redburn graduated from the University of Missouri-St. Louis in 1993 and received his master's degree in Athletics/Activities Administration from William Woods University.

He and his wife, Tracy, have two sons, Joe and Jack.